Shipboading with Reservation
Applications by Telephone
First, make the reservation.
Purchase the ticket
・Purchase at the boarding terminal on day of departure
・Purchase advance tickets at a travel agency
・Purchase advance tickets at the Takeshiba Branch
Ship Boarding Procedure
・If you have purchased a prepayment voucher, you will need to exchange it for a ticket on the day of departure at the ticket counter.
・Complete your boarding procedure as early as possible.
・Your reservation may be forfeited if boarding procedures are not completed 15 minutes before departure.
・Be sure to fill out the boarding card.
・Boarding cards are required even for babies and infants under age 6 who do not require a seat. Apply at the ticket counter.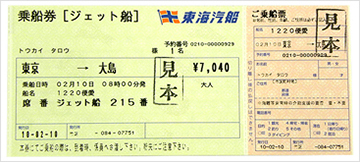 Boarding the Ship
・After commencement of boarding is announced, hand over the passenger ticket at the boarding gate. Then you will receive a ticket stub (boarding card).
・Use the seat number on your ticket stub. Hold on to the ticket stub. You will hand over this ticket stub when you debark from the ship.
Ship Service Cancellations
* There may be service cancellations due to circumstances beyond the company's control, including natural disasters, adverse weather conditions, and government orders, etc. In such cases, we shall not charge a cancellation fee.
* People already in possession of advance tickets may request a refund within 30 days at the place of purchase.
* To use another departure time, you will need to make a new reservation.
* See here (Japanese only) for the current service situation.
Telephone confirmation
| | |
| --- | --- |
| Morning jet ferry service departing from Tokyo, Kurihama, and Tateyama: | 03-3433-2101(Takeshiba Branch) |
| Afternoon jet ferry and large passenger ship service departing from Tokyo: | 03-3433-1251(Takeshiba Branch) |
| Jet ferry service departing from Atami: | 0557-82-2131(Atami Branch) |
Cancellations on the Return Leg of a Round-trip Ticket
* If the return leg of a round-trip is cancelled, and you need to extend your stay, Tokai Kisen will not be responsible for lodging, meal, and other transport expenses such as airline tickets, etc.
Note, however, that the return ferry ticket remains valid, and can be used at a later date if seats are available. If you are on a package tour, etc., and are able to return using another transport company, we cannot pay back the cost of the return leg, only of the round-trip ticket.
* Depending on sea conditions, the departure time of the return ferry may be moved earlier.